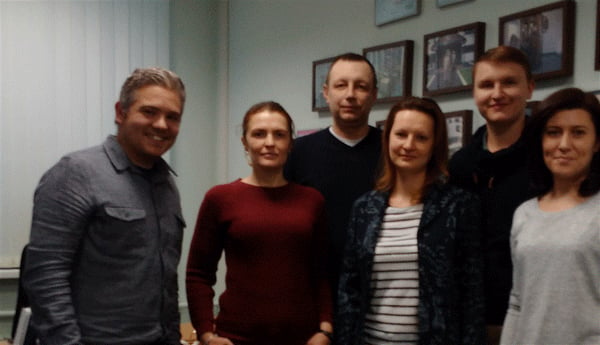 The image shows from left to right Aaron Quinn, Galina Val'kova (FEA Manager), Pavel Andreev (Technical Director), Galina Korichneva (Sales Manager), Konstantin Tkachenko (sales manager), Marina Golovchanskaya (documentation specialist).
Caleva have formed a new distribution alliance with InterPharmTechnology in Moscow. Aaron Quinn spent four activity-packed days in Russia, travelling almost 3,500 kilometres with his new specialist partners. InterPharmTechnology and Caleva visited many universities, industrial R&D technology parks and including some existing customers of Interpharm who indicated a need to create extrudate and pellets.
Caleva understands that from March 2017 the government in Russia is implementing regulations that mean that all pharmaceutical drugs must be certified as conforming to either EU or US standards. Previously, quality control has been undertaken by individual in-house GMPs and with the changes being imposed some pharmaceutical manufacturers may have a requirement for newer technology that will be compliant with either EU or US pharmaceutical regulations to strengthen their domestic and export markets.
The introduction of these new regulations are radical changes for pharmaceutical pellet production in Russia. The changes will impact on production facilities and infrastructure but at
Caleva believe that the most vital part of this kind of operation is in the quality of its process and at the heart of this is the equipment itself.
Importing pharmaceutical pellets is clearly an option, but it has been proven in other geographical markets that new equipment purchased for own manufacturer can very quickly pay for itself.
Caleva will be working closely with InterPharmTechnology to ensure that the benefits of making the pellets in-house are understood. The emphasis will be shown in terms of product quality and production costs.
Caleva is ready to undertake laboratory trials in the UK for their customers in Russia and will make the results of those trials available to those customers for their own in-house testing and analysis. It is intended to show the quality of product available with Caleva designed equipment.
Caleva is running a seminar in Moscow to introduce and lead this initiative. Caleva, as the market leader in this field, want to be the expertise that people contact to discuss their new plans.