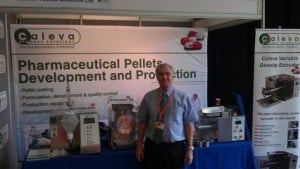 Caleva exhibited at the APS (Academy of Pharmaceutical Sciences) annual meeting in Nottingham from12th to 14th September 2012. The meeting was well attended by the leading academic and industrial researchers from the pharmaceutical industry both from UK and overseas demonstrating the increasing importance of this annual meeting.

Most major pharmaceutical companies were present in some way, either as exhibitors or as participants in the scientific sessions. As well as Caleva, among the exhibitors were GSK and AstraZeneca and representatives of the UK pharmaceutical industry.

As a window on what is currently happening in development in the UK pharmaceutical industry this annual event is not to be missed by anyone who wants to keep up to date in this field.